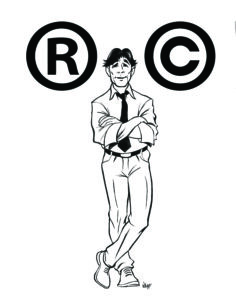 Frequently Asked Questions: Trademarks & Servicemarks 101
By Jeffrey E. Jacobson & Justin M. Jacobson

What is the difference between a trademark and a copyright?

A copyright protects the expression of a creative idea, i.e. an image or sound recording; whereas, a trademark or servicemark is used to identify the source of goods or services, i.e. a brand or company name. Thus, a logo can be both copyrighted and trademarked; whereas, a company name can only be protected as a mark.

If I trademark or servicemark my company/product name, does that mean others are prevented from using it?

The primary objective of a trademark or servicemark is to prevent consumer confusion in the marketplace, so a consumer will know who is providing a certain product or service. Trademark and servicemark applies to a particular category of goods and services. (i.e. "Nike" brand shoes vs. "Nike" brand lifting jacks)

When should you apply for trademark or servicemark in your company name?

You should apply for trademark or servicemark rights in your company or product name as soon as possible. An intent-to-use trademark or servicemark application may be filed prior to the actual use of a mark to reserve a particular name for a specific good or service. The trademark or servicemark must actually be used in commerce within six months after a Notice Of Allowance is issued or an extension must be filed. In addition, first, a trademark or servicemark search should be conducted to ensure that your mark is available and that you are not infringing on someone else's mark.

How long does it take to get a trademark or servicemark?

This can be a lengthy process that can take anywhere from a few months to several years, although most applications are completed within a year. The length traditionally depends on the complexity of the mark and whether any potential conflicts or legal issues arise while the U.S. Patent and Trademark Office examine your application. Once you file your application, your filing date is marked and this date is used in any potential trademark or servicemark disputes; so, the earlier the filing date, the better.

What class should I choose?

When you apply for a trademark or servicemark, you need to specify a class which depends on the particular goods or services that you are using your trademark or servicemark with.
What is not allowed as a registered trademark or servicemark?

Trademark applications might be refused if the trademark or servicemark describes your goods or services or any of their characteristics; if it includes offensive words or images; if it is against the law in any way e.g. promoting illegal activities; or is deceptive – attempting to persuade the public that your goods and services have a quality which they do not.

How long is a trademark or servicemark good for? How long does a trademark or servicemark last?

Trademark and servicemark registrations have a 10-year term; but, require affidavits to be filed by the owner between the fifth and sixth year. A renewal must be filed by the owner between the ninth and tenth years. You can then renew the registration for another 10 years, with no limit on how many times you can renew the mark; thus, you could have a registered trademark or servicemark as long as you like.

Can I trademark my name?

Yes, particularly people who use their names in their professions like actors or designers should consider registering their name. However, a personal name might only be registered if it is considered "distinctive" or has otherwise acquired secondary meaning through the continued use of the trademark in commerce for at least five years for the particular class. The more common a name, the less likely your application will be approved.

What happens if someone else uses or infringes my trademark or servicemark?

If another company is in a different type of business than you, you may not have legal grounds to stop them from using your mark (e.g. Houndstooth Estate Agency and Houndstooth Tree Surgeons); but, you can stop someone else from using your mark when it's being used on competing similar goods or services, if there is a likelihood of consumer confusion. Dilution is another relevant concept.

What risks may occur for failure to register a business name or logo?

If an individual chooses not to register their name and/or logo; they risk others adopting and using similar marks and logos. They also risk losing the presumptions of ownership and validity a federal trademark registration provides. Nationwide rights to the mark are acquired by marks used in interstate commerce.

What are some of the benefits of federally registering a trademark or servicemark?

There are many benefits to registering a trademark or servicemark, including a presumption of ownership and validity of the trademark or servicemark after the first five (5) years of registration. Second, a registration can be used offensively to prevent others from adopting and using confusingly similar marks for the same or similar goods or services. Third, the ® symbol is notice to third parties of your trademark or servicemark rights. Fourth, a trademark or servicemark registration records for the owner, nationwide rights in the trademark or servicemark as of the date of filing the application. Fifth, after five (5) years of securing a trademark or servicemark registration and continuous use of the trademark or servicemark in commerce, the owner can file an affidavit of incontestability, and the registration can become conclusive evidence of ownership and validity of the mark in a law suit. Finally, a registration is a valuable commodity, permitting the licensing of the mark by third parties and selling the associated "goodwill" in the mark.

© 2015, The Jacobson Firm, P.C.